We've all heard the stories or read about them in the press, people who save for years to buy their dream property only for it to turn into a nightmare once the sale goes through.
In the majority of these cases, it comes to light that the purchasers relied solely on their lenders valuation to highlight potential problems and did not instruct an independent survey through a solicitor or chartered surveyor. We cannot stress enough, that a valuation is not a survey, it is done for the lender's benefit, not the purchaser's and is solely to assess the value of the property.
Before you consider buying any property you should always instruct an independent survey, whether it be a Level 1 RICS Home condition report, Level 2 RICS HomeBuyer report or a fullly detailed Level 3 RICS Building survey. A survey will help identify uninsurable risks and can potentially save you thousands of pounds.
If you're not sure which survey to choose then speak to us and we can explain the differences and help you assess which one would be applicable for you and your potential property.
In the UK 42% of homeowners need unexpected work done to their property within 12 months of moving in.
On average, people spend around £5,000 on their home, building or property within the first 12 months putting things right, and some end up spending an awful lot more. More than half of those needing major work done to their property within a year of moving in, so knowing this in advance would have influenced their decision to buy the property in the first place.
All this cost and heartache can be prevented by instructing a property survey.
In today's climate where we are all a lot more careful with the purse strings, paying out for a home survey may seem like a waste of money but believe us it's not. It's imperative to find out what you're dealing with as early on in the buying process as possible. Home and building surveys can uncover major problems as well as more discrete damage to homes, buildings and properties.
Buying a new home, building or property?
How much will a survey cost?

Don't look at the cost of a survey as wasted money, forewarned is forearmed. A home, building and property survey is there to protect you and your investment. If there are any problems, you can use the information in the survey to renegotiate the purchase price or insist the seller gets the work sorted out before you proceed with the purchase. It doesn't have to mean that you'll drop out of the sale, you can use it to your advantage, as long as it's sensible to do so.
It's always better to be informed and if you want to avoid the pitfalls relating to buying a property, instructing a RICS (Royal Institute of Chartered Surveyors) survey is a must.
The price for a survey depends upon a few factors as well as the type of survey you need. You can get an estimate and all the information immediately by choosing your home property survey here.
Instructing a home, building or property survey after buying

If you've owned your home, building or property for any period of time and didn't instruct a survey during the buying process, hiring a surveyor now to undertake a property or home survey for you would be worth your while. Especially if you have concerns about the building.
Are you considering selling your home or wanting to live in it for longer? You may have some concerns with the roof, damp, electrics or plumbing for example and this is impacting upon your decision to either stay or sell?
Well, a RICS survey is ideal for you because our honest approachable experts will give their professional opinion on the property. You can then make an informed decision based on the outcome of the survey. Perhaps if there are issues that have been highlighted, this can help you during the selling process as you can either rectify the problems or adjust your asking price accordingly.
What are the most common problems that are highlighted within a RICS survey?

Below are 8 main reasons why our honest approachable experts believe you need a home, property or building survey.
I've explained exactly what they are, along with some quotes from people who wished they hadn't cut corners as they've ended up spending thousands of extra pounds on their so called dream homes:
Damp
Roof Issues
Subsidence
Dry Rot
Woodworm Infestation
Defective Central Heating
Defective Electrics / Wiring
Asbestos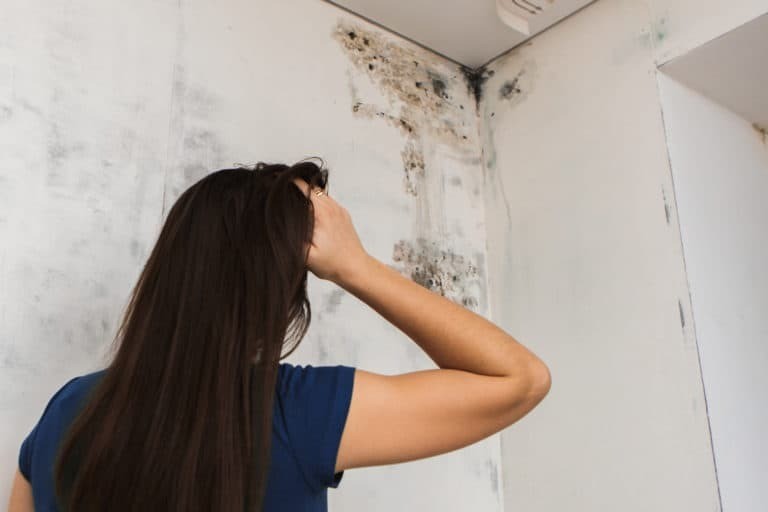 1. Damp

This is one of the top 3 problems that people experience when buying a property. There are a few different kinds of damp to be aware of: Rising damp, dreaded by many homebuyers, is potentially the most expensive to sort out. It's caused by water coming up from ground level, often through a faulty or missing damp–proof course in the wall. This can lead to wet-rot in floorboards meaning extra costs on top of the damp-proof course repairs. Other causes of damp include penetrating damp, where water's getting in from outside via a leak in the roof, walls or windows, and condensation, where there's not enough ventilation in the property.
"Our 250+ year old house was full of damp. We were so green we bought it with just a lenders property valuation. Get a full structural survey done on any older property. It cost us a fortune to put right and we still get rising damp in one wall, even though the whole place was damp-proofed and we had new skin put on outside walls."
Instructing a RICS survey will pick up any damp problems. If your surveyor finds damp it's important to investigate the cause and assess how much it will cost to put right. This can range from thousands of pounds for excavation and a new damp-proof course to something as simple as buying a dehumidifier. Once you're armed with the information you can decide whether to negotiate with the seller about covering the cost of repairs or reducing the price of the property.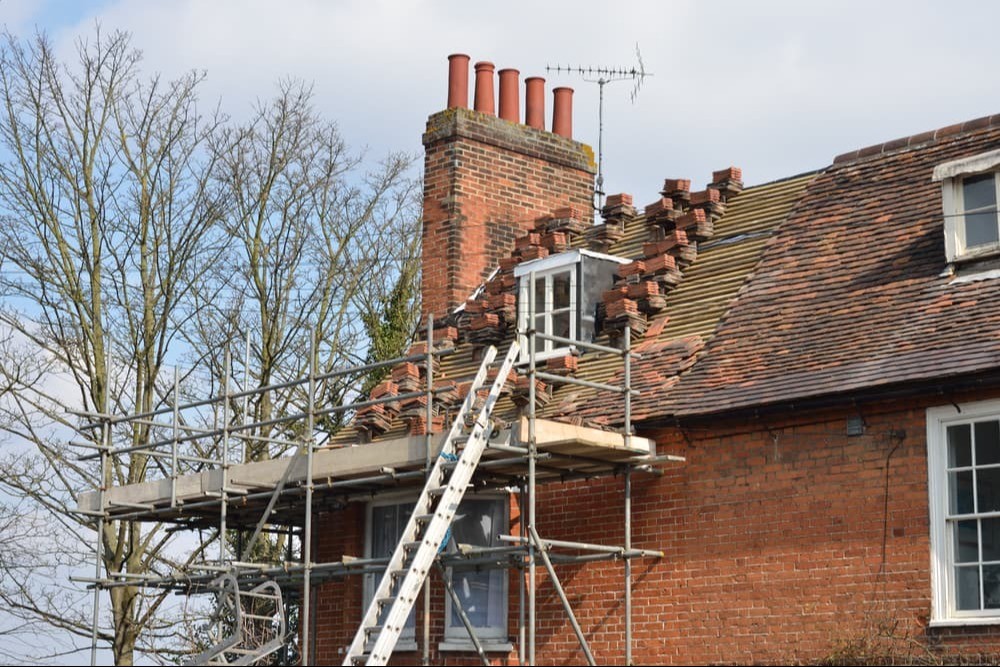 2. Roof Issues

Most roof problems stem from damp, where rainwater has been constantly leaking in through damaged roof tiles or chimney structures, or from rotten roof due to dry rot or woodworm damage. Obviously, this would generally occur in older properties but can also be an issue in newer buildings where extensions or conversions have not been done to building regulation standards. The older the property the more likely it is to have possible roof problems e.g. bowed roof structure, rotten joists, unless it is obvious that a new roof has been added. Replacing a whole roof is an expensive job, the roof protects the whole house so it is vital it's in good condition.
"We moved just over a year ago into a house that needed a lot of work. We knew that was the case and expected to have to do some fairly major jobs. What we didn't expect was to have to replace the entire roof. But when we had a big storm in the summer, water poured into our newly redecorated bedroom and ruined the place. We got several roofing companies in and they all agreed it needed replacing entirely, which was not cheap."
Commissioning a chartered surveyor to do a survey will highlight problems like this, once again enabling you to use the information to decide whether you wish to negotiate with the seller about covering the cost of repairs to the roof, or reducing the price of the property that's being sold. Being informed is key.
Book your property survey today
3. Subsidence

This happens when the ground underneath a property moves causing instability. It generally happens in an uneven way causing cracks in the structure of the property i.e. the brick walls. Any cracks in walls should be investigated by a surveyor as it may not just be general subsidence causing movement but something far bigger like a sinkhole. We've all seen the footage of houses and vehicles disappearing down a huge hole in the ground, that's the last thing you'd want to happen to your new property!
Although it sounds fairly dangerous, subsidence can be fixed through underpinning, however, this can be very expensive. The main issue as a buyer though, is that if a property has subsidence problems, even if it's been underpinned, you're likely to be charged a larger insurance premium.
"We bought a £500,000 barn conversion with an annexe and separate block of B&B outbuildings on the Somerset levels. We naively relied solely on our lender's property valuation and did not commission our own building survey.

It's been a complete nightmare. On our first night in the property we encountered the problem of kitchen drawers sliding open by themselves. We have to pile books on one side of our beds and couch to make them level and our 5 year old son can't play with marbles or balls or anything on wheels because they just roll away!

We instructed a chartered surveyor to do a full building survey to give us some idea of the price of fixing the problem. Their report showed a long list of major problems, the main one being subsidence in all parts of the property. This has also lead to a bowed roof structure, external cracking in walls and bricks and walls being out of plumb, to name a few. In other words, the 'house from hell' with a put-right price tag of approximately £165,000."
A RICS Building survey will ensure you have a full understanding of the subsidence problem and any related issues. It will pick up on any repairs that may have already been done and if you then decide to go ahead with the purchase it will give you the option of negotiating with the seller on the price of the property to see if you can offset any extra insurance costs.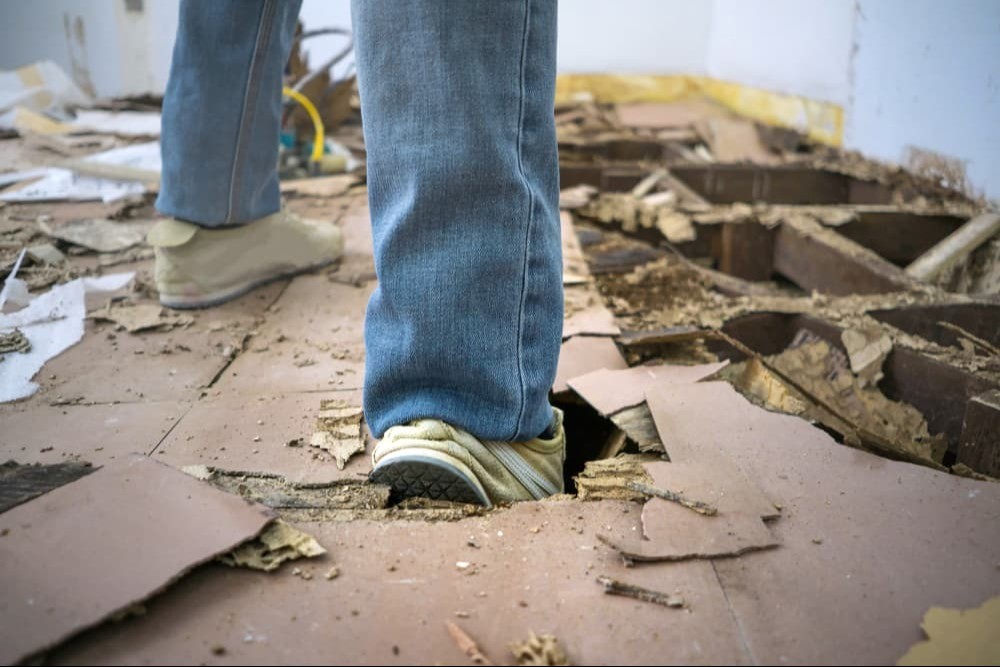 4. Dry Rot

Dry rot is a type of fungus that can weaken the timber within a property, including floor joists, window frames and stairs. It can spread rapidly but it only sets in if conditions are damp, which could mean anything from a leaky pipe to a defective roof. If you've got dry rot it means there's work to be done eliminating the problem and repairing any damage.
Commissioning a RICS survey will pick up on issues like this. Once you've confirmed the extent of the problem with your surveyor, you need to think carefully about your options. You could negotiate with your seller and ask them to cover the cost of repairs. However, this might mean a lot of disruption and delay in moving into your home. With serious dry rot, some people choose to cut their losses and pull out of the sale – it all depends on your personal circumstances.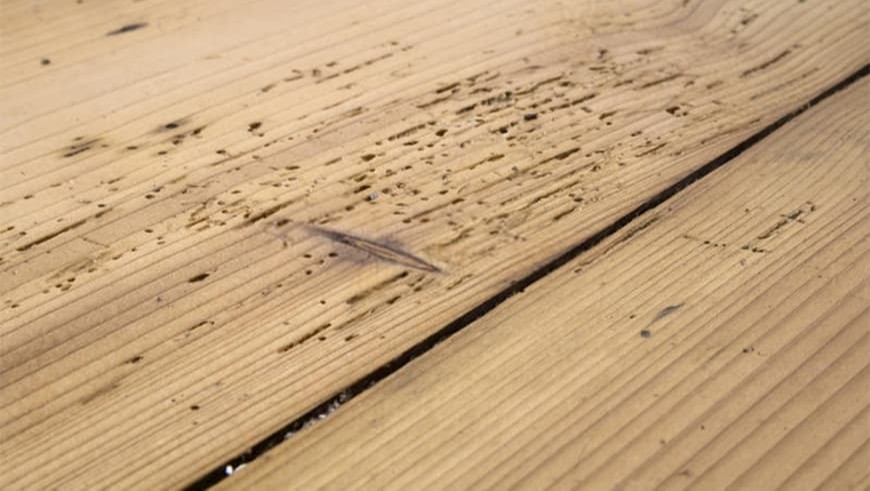 5. Woodworm Infestation

Woodworm is actually caused by beetles, not worms. Their larvae burrow into timber, including furniture, woodwork, floorboards and joists, causing structural damage to a property. You might see evidence of woodworm within the property if there are exposed beams. The tell–tale sign is small, rounded holes on the surface of the wood, although if woodworm affects a structure that's out of sight, the problem might not be obvious to the untrained eye.
If woodworm is present you might need to get a specialist in to assess the extent of the problem and to confirm the type of beetle you're dealing with. Some species of beetle can cause devastating damage to structural timbers, while others prefer softwoods and furniture. The methods and costs of treatment can vary depending on how severe the problem is.
Once again, having the correct survey will make you aware of the presence of woodworm in the property and give you possible negotiating room with the seller to pay for the cost of any repairs or lower the price of the property.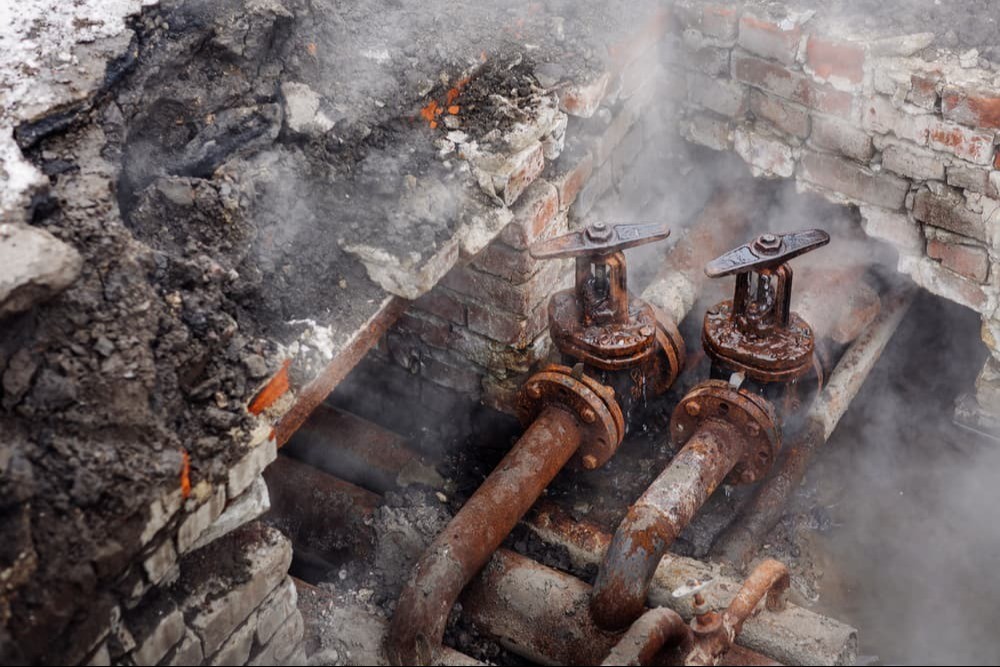 6. Defective Central Heating

The boiler not working will only require someone to come and service it, right? Well, what if it's not just the boiler that's the problem, what if the central heating pipes are leaking at the joints, causing damp and rotten joists and wet-rot in floors.
Checking things as simple as the central heating system is vital when buying a property or you could be left with a big bill for repairs.
"We've spent around £35,000 already and it's ongoing. Our mock Tudor house looked sound and seemed to be a bargain. But the dream has turned into a nightmare. The central heating pipes were leaking at the joints and had to be replaced. They had caused the downstairs floors to have wet rot and on the upper floor there was damp as well leading to a whole host of other problems too. It's estimated that we'll have to spend another £50,000 to £60,000 to get to a position where we're happy and it's structurally safe to live in, I don't know where we are going to find the money to do that."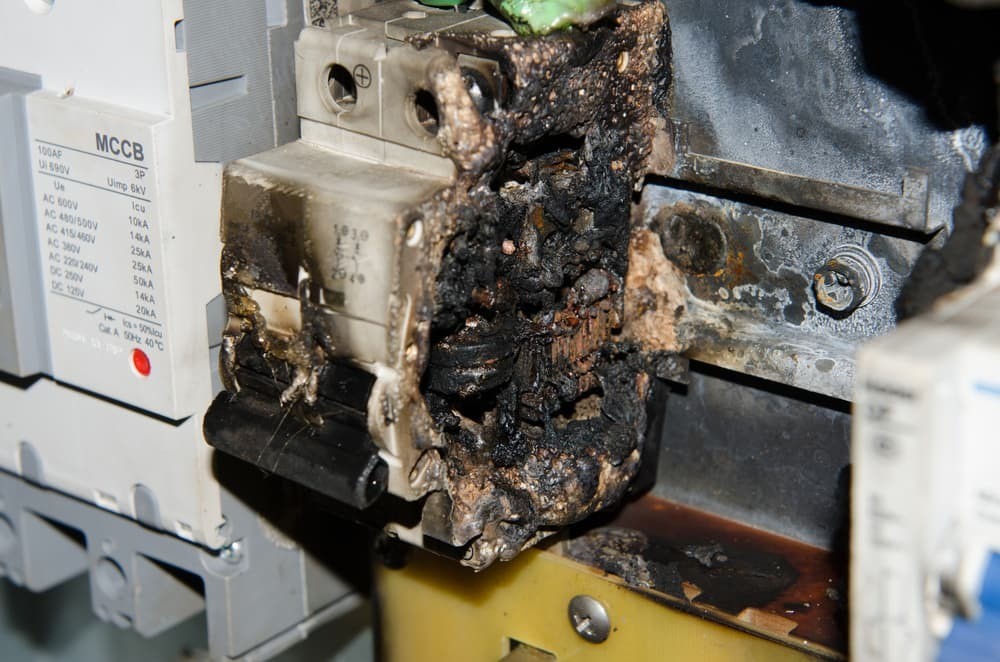 7. Defective Electrics/Wiring

Electrics and wiring, especially in old properties needs to be checked. It can often be the case that wiring is substandard compared to today's specifications and this can cause fire risks within a property.
If the electrics are deemed to be dangerous then the whole property may need to be re-wired leading to substantial extra cost.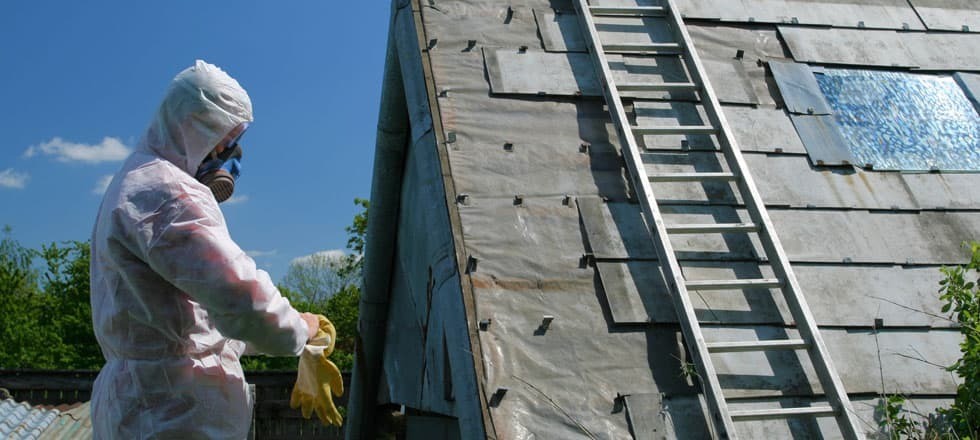 8. Asbestos

It's well known that asbestos is bad for your health. But rather than affecting homeowners, most cases of asbestos–related illness that we hear about involve construction workers and tradespeople who are exposed to asbestos over the long term. However, if your home was built before 2000, there might be asbestos somewhere.
If the asbestos is in good condition and it's left alone, there may be no issue. But problems can arise if it's exposed or disturbed, for example during renovations, as it releases dangerous fibres into the air which can be inhaled.
If your surveyor thinks there's a risk of asbestos in your future home, you need to know where it is and whether it's in good condition. You can get a specialist asbestos survey carried out via your local council, to set your mind at rest.
Benefits of a home, building or property survey
Now you've read my 8 reasons why you need a survey, I hope you will agree with me that it makes real sense not to scrimp on a thorough home, property or building survey, as this can be a total false economy.
Buying a property is probably going to be the most expensive purchase you will ever make, therefore leaving things to chance really isn't an option.
You can't put a price on peace of mind.